All JA curriculum is listed below. If desired, you can filter by first selecting a grade level, then a pathway.
Learn How You Can Volunteer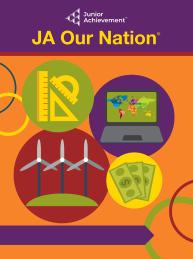 Classroom Based
After School
Virtual
JA Our Nation provides practical information about the need for employees who can meet the demands of the 21st century job market, particularly high-growth, high-demand jobs. By program's end, students will understand the skills, especially in science, technology, engineering, and math, that will make their futures brighter. (Grade 5) This volunteer-led, kit-based program is available for classroom-based or remote classroom implementation. It includes five 45-minute sessions and one optional supplemental session, with additional extended learning activities and optional digital assets offered throughout.
Work Readiness
High Work Readiness
Financial Literacy
Moderate Financial Literacy
Entrepreneurship
Moderate Entrepreneurship
Learn More About JA Our Nation®