JA National Student Leadership Summit 2022
Author: Kelsey Matzinger
Entrepreneurship
Published: Wednesday, 29 Jun 2022
---
Sharing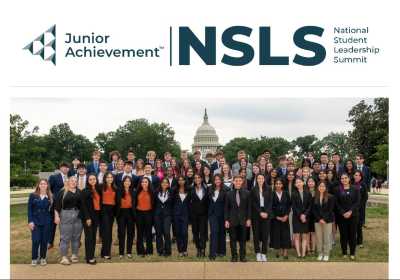 Image caption: Students sit at a table collaborating with each other at NSLS
In June of 2022, 15 of Junior Achievement's top student companies came to the Nation's Capital to compete in the 2022 Junior Achievement National Student Summit.
Junior Achievement's National Student Leadership Summit (NSLS) is a contest of business skills, ingenuity, and innovation that focuses on the accomplishments of JA Company Program ® students in the United States between the ages 15-19 during the 2021-2022 academic year. Currently reaching more than 10,000 U.S. students who created over 500 start-up ventures, JA Company Program students start and run a real business enterprise under the guidance of a volunteer from the local business community. They devise and market a product or service that fills an unmet consumer need and recruit investors for their company.
"Junior Achievement's student events are of great importance to our organization. These events provide unique opportunities for our students to put into practice the concepts they have] learned from the JA Company Program, such as collaboration, creativity, critical thinking, communication, and sound business practices," said Jack E. Kosakowski, President & CEO of Junior Achievement USA. "The professionalism and passion for entrepreneurship I've witnessed during this summit reassures me that our future is in good hands. These young people are a testament to the impact of Junior Achievement."
Inside NSLS 2022
The student companies were assessed on their financial performance, individual team members' personal and professional development, a self-produced commercial about their product or service, their team's live presentation to a panel of business leaders, and on their company's performance at an Entrepreneurship Expo on Capitol Hill, which was attended by Members of Congress and Congressional Staff.
After a thorough evaluation and judge scoring, the following JA student companies received awards and recognition at NSLS 2022:
JA Company of the Year: Awarded to the student businesses that most effectively demonstrated their companies' achievements, as well as the personal development of each team member.
Delta Social Impact Award: Awarded to the student team that created a solution to address a local, national, or global social concern.
FedEx Global Possibilities Award: Awarded to the student company that best exhibits the principles of global connectivity.
ICE NYSE Foundation Best Financial Performance Award: Awarded to the student team that demonstrated the best financial results, including profitability, investor expectations, employee earnings, product quality, leadership, and operational efficiency.
2022 JA National Student Leadership Summit Final 15 Teams
Amity – JA of Greater Washington (Washington, D.C., Area)
Amity is a startup company for women by women, providing self-care packages to empower women and support them in their future endeavors.
Botl+ – JA of Northern New England (Boston, MA, Area)

Botl+ is an aluminum, dishwasher-safe water bottle with a detachable wireless and USB portable charger at the base. The bottle facilitates hydration while keeping devices powered up. Botl+ combines two crucial everyday items into one and enhances convenience for consumers.
Brain Wave – JA of North Central Ohio (Canton, OH, Area)
Brain Wave's mission is to help keep the mind sharp by improving logic skills, memory, and creativity through fun, cognitive exercises in the form of a 90-page activity book.
View Brain Wave's profile page
Charcute – JA of San Diego County (San Diego, CA, Area)
Charcute sells customizable candy charcuterie boards for a multitude of social gatherings. Charcute takes away the stress of hosting a party by providing their customers a variety of different themed candy boards and dessert boards. They use 100% natural, zero-waste and sustainable palm leaf boards.
Dulicious Co – JA of Southeast Texas (Houston, TX, Area)
Dulicious Co. is a student-owned company that provides affordable, eco-friendly substitutes that anyone can incorporate into their daily lives, in lieu of traditional plastic product consumption. Their current product casECO is a 100% biodegradable phone case created through an organically sourced, natural wheat straw process, which makes it compostable at the end of its lifecycle.
View Dulicious Co's profile page
Ecossentials – JA of South Florida (Fort Lauderdale, FL, Area)
Ecossentials provides individuals a convenient way to improve their self-care while drastically benefiting the global environment with minimal effort. The Ecossentials Daily Essentials Pouch is their first Ecossentials product. The idea originated after a board member shared their concern for plastic pollution in the environment.
View Ecossentials profile page
EVO – JA of Southeast Texas (Houston, TX, Area)
EVO is a student-led company that aims to kindle innovative ideas that will help solve deep-rooted problems in the community and the world, sparking inspiration within young entrepreneurs and empowering them. EVO created Let's Keep Talking, a card game and bracelet set to facilitate simple, easy, and comfortable conversations in daily life, and to deepen human bonding and connectivity.
Embracelet – JA of Northern California (San Francisco, CA, Area)

Embracelet creates stress-relief fidget bracelets, utilizing a push-and-pull mechanism within the beads to act as a fidget, aiming to relieve stress or anxiety in its user. Individuals in need of a distraction in over-stimulating environments, who are inclined to making small movements, now have a discreet outlet to do so with the Embracelet always at hand.
View Embracelet's profile page
Gateway Clothing Co – JA of Greater St. Louis (Chesterfield, MO, Area)
Gateway Clothing Co. is a JA Company that sells comfortable apparel to Rockwood Summit High students and the surrounding community. Their products allow customers to show their pride in St. Louis, offering vibrant spring colors and a unique design. The company contributes a portion of its sales to Gateway 180, an organization that works to combat homelessness in the St. Louis area.
View Gateway Clothing Co's profile page
InnoVistics – JA of North Central Ohio (Canton, OH, Area)

InnoVistics seeks to make speech stress-free with their Watch Your Mouth! Speaking Game, which includes a game spinner, 52 prompt cards and 3 educational pamphlets.
View InnoVistics' profile page
IRIS – JA of Greater Washington (Washington, D.C., Area)

IRIS strives to empower local artists by providing them with a platform to showcase their artwork and create their own brand. Iris acquires art submissions from local students and in return, they receive a way to support a cause important to them, all while establishing themselves in the artistic community.
On The Money Magazine – JA of Chicago (Chicago, IL, Area)
On the Money Magazine (OTM) is a by teens for teens publication. OTM's mission is to increase teens' financial literacy and capability through the development of educational resources, community outreach, and student-written publications.
View On The Money's profile page
Relaxivibe – JA of Southeastern Pennsylvania (Philadelphia, PA, Area)
With a mission to help people find peace within themselves, Relaxivibe invented a visually appealing yet discreet coping mechanism for people to manage stress and increase focus. The Fidgelet's innovative design is fashionable, adjustable and provides multiple sensory experiences to calm your vibe without bothering those around you. You can slide, roll, or squeeze the various textured beads quietly due to the woven design and sound-dampening silicone beads.
View Relaxivibe's profile page
Sababa – JA of North Central Ohio (Canton, OH, Area)

In the face of today's burgeoning mental health crisis, Sababa's mission is to make self-care easy and affordable through an experiential subscription box.
TriSense – JA of Northern New England (Boston, MA, Area)

Through their sensory kits, they aim to create a more accessible and open world for all.
Select a button below to see how you or your organization can get involved with Junior Achievement of Southern Colorado, Inc..
Donate
Volunteer
Request A Program
We use cookies to provide you a personalized experience. How we do this is by analyzing user behavior on our site and sharing data with our advertising and analytics partners. You consent to our cookie policy if you continue to use this website.