Credit Card Crash Course
Author: Hannah Henry
Work Readiness
Published: Tuesday, 14 May 2019
---
Sharing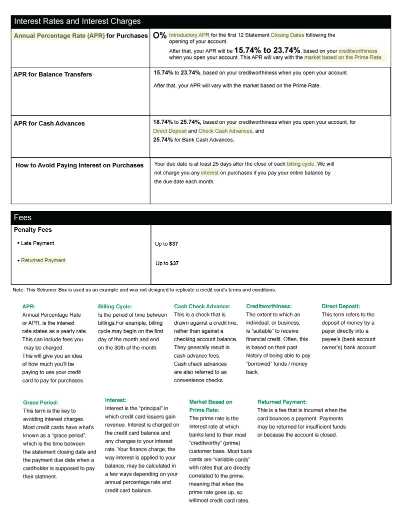 Image caption: Interest Rates and Interest Charges information
Not all credit cards are created equal, which makes choosing one a difficult task.
As of March 2019, Americans paid banks a shocking $113 billion in credit card interest in 2018. While your credit card activities may differ from your colleague or classmate, one thing is for sure: understanding the way your credit card works is a crucial component to any credit holder.
Pick the Right Card
Although the flashy commercials are dazzling, they shouldn't sway you into choosing a card just because your favorite celebrity is representing it. You need to consider what you will be using the card for. The list of credit cards available is endless ranging from cards that cater to balance transfers, low-interest rates, cash back, reward points, gas points, and more!
When examining cards, be sure to look at the Introductory Offer APR as well as what the APR will be once the Introductory time-period has concluded. While a 0% Introductory APR may sound appealing, be sure the APR that follows is within reason for you and your income.
To help you explore the cards that are best for your goals, check out NerdWallet! You can compare and deep-dive into the specifics of each card that you're interested in!
Consider Your Credit
In the United States, the average score for those who are 18 - 29-years-old have a FICO score of 659, 30-39-year-olds have an average of 677, followed by 40-49-year-olds with a FICO score of 690. For most of those who are 20 or younger, the concept of credit score may be foreign, so here is the best (and simplest) explanation: Your credit score is a number that helps lenders (money-lending institutions) determine how likely it is that they will receive the money they lend you, on time. Seems simple enough, right? Be warned, this one number reflects multiple factors of your money history including your total debt (should you have any), the types of credit accounts you have, the number of late payments, how many credit checks you have requested, as well as the age of the credit card accounts. Here comes the kicker, FICO is not the only type of credit bureaus that utilize credit scores. There is a total of 5 you should be aware of. Here are the five and the credit score ranges they use:
FICO: 300 - 850
Experian: 330 - 830
Equifax: 300 - 850
TransUnion: 300 - 850
VantageScore: 501 - 990
How to Understand Schumer's Box (aka the card information pamphlet)
Break out your reading glasses because when it comes to credit cards, you will want to read the fine print. While the example below doesn't go through every single term you will see as you read through the fees and other credit card specifics, it should give you enough information to compare and contrast the credit cards you are considering.
Before running off to explore the world of credit, here are some FAQs you may find helpful:
Why is introductory APR even a thing?
The 0% catches your attention, doesn't it? You won't have to pay any interest on the money you owe for 12 to 18 months! Who wouldn't want to start the paperwork?! Before you sign on the dotted line, lenders use these attractive offers to get you to switch cards. If you don't pay off all your card once the introductory period ends, you could get hit with a fee.
Why do I even need a credit card?
You've heard the horror stories from parents, friends, and even movies. So why should you even get a credit card? At the most basic level, credit cards are a great way to earn rewards from purchases you would have made anyway with a debit card or cash. They can also help you build credit so when the time comes you want a new car or a home, you will have a score to back up your money habits to the lender.
What if I don't have any credit?
For those without any credit, you will find it more challenging to be approved for a card to help you build the credit you need. Fortunately, there are a few ways you can position yourself:
Apply for a Secured Credit Card: these are cards that are "backed" by a cash deposit you will make at the beginning. The deposit amount typically is the same amount as the card's credit limit.


Co-Signer: For someone without any credit, lenders are wanting to have more confidence in getting their money back. This is where a co-signer comes in handy. Essentially a co-signer, someone with good credit, takes responsibility for you if you fail to pay back the money borrowed to the lender.


Authorized User on a Card: If you have a family member or significant other that would like to assist in your credit building efforts, this may be your best bet! Not only can you use the card as if it is your own, but you will also be able to build credit. The one downside most credit card holders have in adding an authorized user is the authorized user is not legally obligated to pay for the charges.
What if I am a minor?
When applying for credit cards you will find to apply, you will need to be 18 or older. An option to begin building credit under the age of 18 may include becoming an authorized user on a guardian's card. As mentioned above, this method may be riskier for the original card holder as the authorized user may not be legally obligated to pay for the charges.
To learn more about responsible money management, check out the "My Money" section of the Junior Achievement website.
Select a button below to see how you or your organization can get involved with Junior Achievement of Southern Colorado, Inc..
Donate
Volunteer
Request A Program
We use cookies to provide you a personalized experience. How we do this is by analyzing user behavior on our site and sharing data with our advertising and analytics partners. You consent to our cookie policy if you continue to use this website.