Are You Smarter Than a JA 5th Grader?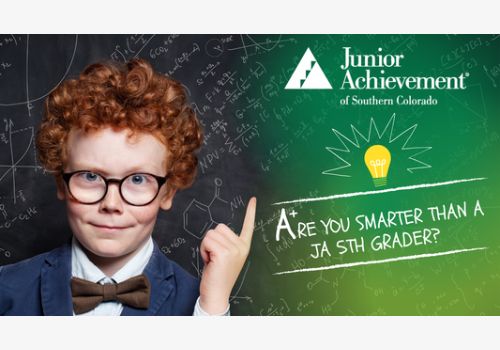 NEW Virtual Fundraising Event
Event Completed!

When: Thursday, February 18, 2021
Where: Online https://www.youtube.com/channel/UC6g6hpJc6XL0miCnToyWzSA
Time: 6:00 PM MST
This NEW virtual event highlights business and community leaders testing their wits against local JA 5th graders. Send your bravest executive, sponsor a 5th grader, or donate to one of your favorite teams.

As students in our local schools continue dreaming about their futures, Junior Achievement is oised to inspire and prepare out next generation of leaders through powerful programs delivered in any classroom environment. Online or in person, your investment in JA paves the way for INSPIRING TOMORROWS!
Need More Information?
For more information about this event, please
contact us!