Junior Achievement Spirit of Entrepreneurship Awards Celebration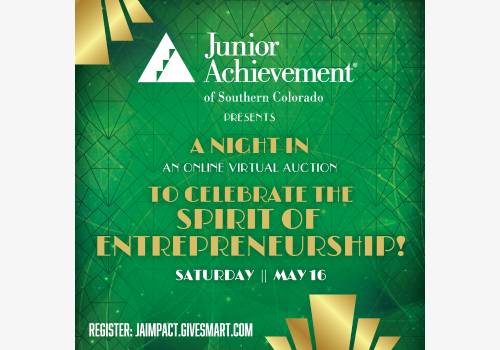 When: Saturday, 16 May 2020
Where: DoubleTree by Hilton Colorado Springs
Time: 5:00 PM MST
Junior Achievement of Southern Colorado is seeking nominations for the first annual Spirit of Entrepreneurship Awards to be announced at the 2020 Gala on May 16, 2020.
The Spirit of Entrepreneurship awards recognize local business leaders who have worked to positively impact the economic vitality of the Greater Colorado region with their bold ambition, dynamic vision, and unyielding work ethic as Laureates in this distinguished cohort.

Three laureates will be selected and nominees must have a track record of entrepreneurship in business growth and development. Defined as either starting, growing and sustaining a business that has had substantial community impact or assuming control of and growing an existing business with similar results.
• All nominees should currently or previously have lived and worked in one of the counties JA of SOCO serves, and epitomize five key standards of excellence:

o Impact on their industry or organization.
o Integrity as an ethical business leader.
o A commitment to improving the Community as a whole.
o Leadership qualities, which allow them to be exemplary role models.
o Entrepreneurial Spirit in starting or significantly advancing local businesses.

In a true effort to Inspire Tomorrows through Junior Achievement programming, each Laureate will present a 45 minute JA Launch Lesson in a classroom to share their story and inspire future leaders. Nominees will need to be willing to visit a classroom in the month of April for this impactful mentoring experience.
Need More Information?
For more information about this event, please
contact us!
"Junior Achievement has given me a sense of what adults go through with budget issues."
Junior Achievement Student
"I liked how the Junior Achievement volunteer explained his job to us."
Junior Achievement Student